Is it possible to enjoy your vacation while maintaining your health and fitness goals? Yep! It sure is. Here are five fun and easy ways to stay fit in Port A.
1. Take a walk along the shore
A walk on the beach is a great, low-impact aerobic exercise. Walk barefoot for an added bonus because your foot sinks into the surface so tendons, ligaments and muscles all work harder. Park your car at the Horace Caldwell Pier and walk towards the South Jetty and back for a relaxing walk that you can log in at a little over a mile. (1.2 miles)
2. Yoga on the beach
Treat your mind and body with sun salutations in the sand. Meet on the beach near the Horace Caldwell Pier on the first Saturday of the month at 8am for a free socially distanced yoga lesson. Bring a mat or towel suitable for the beach. Don't want to get your mat sandy? Head to the pavilion at the Nature Preserve at 11:30 every Tuesday for a free yoga lesson with Selena!
Looking for a more traditional yoga class? Drop in Monday - Friday at 9:00 a.m. at the Balinese Wellness Spa and Yoga Retreat.
3. Rent a bike, kayak, surfboard or paddleboard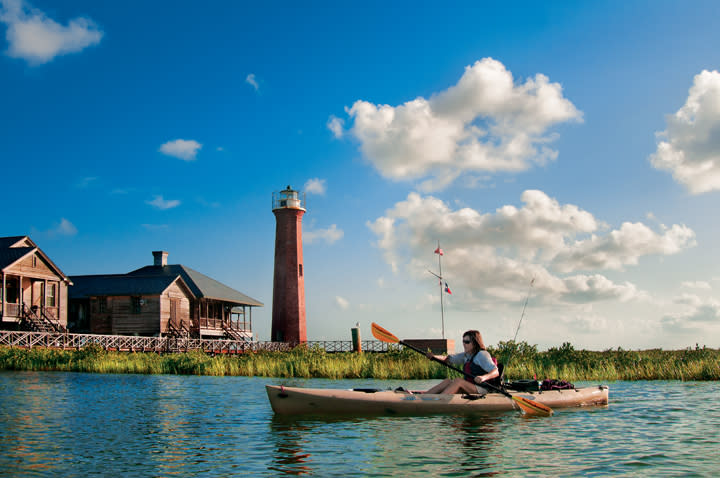 Do you have rigorous fitness goals or want to try something new? Try renting a fat tire bike  from Island Motor Bikes for a ride on the beach or get a great upper body workout renting a kayak or SUP, stand up paddleboard or surfboard.
Port A H2O offers lessons and full day rentals for kayaks, SUP and kiteboards. SUP is a great way to explore the Texas coastline or catch some waves. Port Aransas offers great flat water paddling and endless places to explore.
Want to learn to surf? Book a lesson with Texas Surf Camps or rent half or full day boards from Boardhouse Surf and Skate Shop.
4. Hit the Gym
Are you looking for a more traditional workout? Hit the gym at Karen Decker Fitness. With just a $10 drop in fee you can have access to all the equipment you are used to at home: weights, cardio machine, fitness classes, spin, yoga, strength training and boot camps.
Or drop in for a full strength training class on the beach with Beach Body Burn by Rachel.
5. Play a round of disk golf.
Try your hand at disc golf on the 12 hole course set around the ball fields in the Community Park. This clearly labeled short course is great for beginners but even the most seasoned pros can be challenged maneuvering the wind on this course. Need a disk? Stop in to Fly it Port A Kite Shop to chat with experts and pick up a disk to meet your needs. Warning, you will probably also leave with a kite.