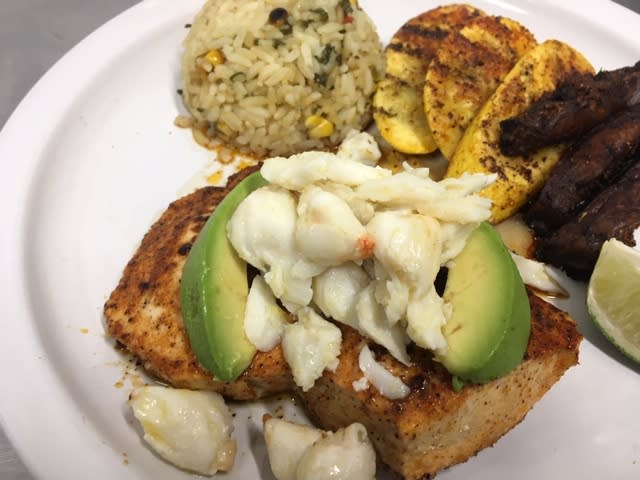 After a day on the water in our favorite little fishing town, we took our haul to a local favorite for "cook your catch." La Playa Mexican Grille, the home of daily fresh fish specials, traditional Mexican food, and 70+ tequilas! We left our snapper in the more than capable hands of the talented team at La Playa and they rewarded us with this delicious masterpiece. Blackened red snapper, topped with lump crab and a pineapple cream sauce! It was so good, we begged for the recipe.
🍍BLACKENING SPICE RUB
1 c Paprika
¼ c onion powder
¼ c ground garlic
¼ c oregano
2 Tbsp ground thyme
2 Tbsp red pepper
2 Tbsp white pepper
2 Tbsp black pepper
1/8 c salt
Combine all ingredients in small bowl.  Rub mixture over fish and grill to desired temperature; remove from heat.  Sautee a generous portion of jumbo lump crab meat in fresh lime juice and butter.  Plate fish and top with crab and fresh sliced avocados; serve with fiesta rice and seasoned black beans.
1 c chopped onions
3 tsp chopped serrano peppers
½ c oil
2 oz butter
14 oz chunk pineapple in syrup
1 qt heavy cream
Sautee all ingredients through pineapple, until heated thoroughly; stir in heavy cream until desired richness is reached.  Put in the food processor and blend until desired consistency.  Serve alongside fish or spoon sauce over filets.