The less plastic the population uses, the less ends up in oceans and on beaches. That is a beautiful, utopian thought. But it seems like a daunting task and daunting tasks are often pushed to the side with the thought, "We'll do it when we have time to truly devote to it." But that begs the question, if not now, when? The change has to start somewhere and sometime.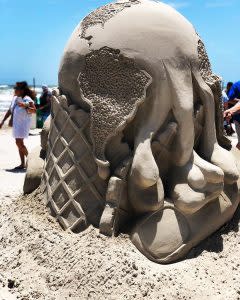 The Port Aransas Tourism Bureau and Chamber of Commerce is partnering with the Mission-Aransas National Estuarine Research Reserve at the University of Texas Marine Science Institute to help promote their new initiative. This initiative is to encourage and help local restaurants to reduce their use of single-use plastics, polystyrene, and plastic-lined food and beverage containers.
To aid in this mission, UTMSI is following the direction of Plastic-Free Gulf Coast, a group of organizations, individuals and agencies with similar goals, spanning the entire Gulf of Mexico. 
The change doesn't only start in the restaurants, however. In 2010, "scientists estimated that approximately 8 million metric tons of plastic entered the ocean." On a personal level, finding alternatives to single-use plastics is an easy switch with a big impact. That's why part of the Mission-Aransas Reserve's initiative includes the "Plastic Free Life Challenge." This challenge, running through June 2021, includes the chance to win  a Plastic Free Life Challenge starter pack containing 42 total alternatives to single-use plastics. Head over to the challenge page to learn more about how to enter!
The Tourism Bureau and Chamber of Commerce invites its members to connect with local project leader, Sarah Cunningham, to learn more about this important environmental project that can start with simple modifications on the local level. Sarah can be reached at (361) 749-3154 or at sarah.cunningham@austin.utexas.edu.