Just kidding! Happy April Fools' Day! Unfortunately there are still no sawfish in Texas, but if you're curious about what actually is biting and when, they're all listed below. To learn even more about fishing in Port Aransas, including where you can find a fishing guide, purchase bait and tackle, book an excursion, or have a local restaurant cook your catch, visit the fishing and boating page.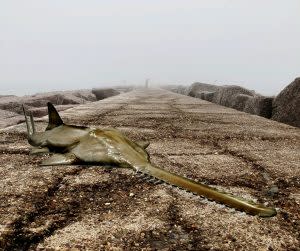 Gulf Fishing
Spanish Mackerel
Dates: May–September
Bait: Spoon, Live Mullet
Ling (Cobia)
Dates: April–October
Bait: Live Perch, Ribbon Fish, Sardine, Jig
Pompano
Dates: October–April
Bait: Shrimp, Fishbites
Kingfish
Dates: Year Round
Bait: Ribbon Fish, Cigar Minnow, Lure
Dolphin (Mahi Mahi)
Dates: July–October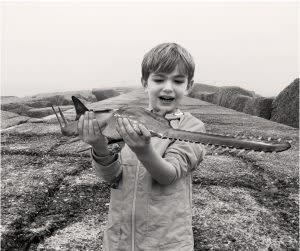 Maybe next April 1st there will be a real sawfish!
Sailfish
Dates: July–September
Bait: Ballyhoo, Lure, Live Tuna
Marlin
Dates: July–September
Bait: Ballyhoo, Lure, Live Tuna
Barracuda
Dates: Year Round
Bait: Live Blue Runner, Ballyhoo, Lure
Red Snapper (offshore)
Dates: June–August
Bait: Live Perch, Squid
Grouper
Dates: December–April
Bait: Large Whole Fish
Amberjack
Dates: May–August
Bait: Live Bait, Jig
Bay Fishing
Redfish
Dates: Year Round
Bait: Shrimp, Mullet, Lure
Speckled Trout
Dates: Year Round
Bait: Shrimp, Perch, Lure
Drum
Dates: Year Round
Bait: Shrimp, Crab
Flounder
Dates: Year Round
Bait: Shrimp, Lure, Finger Mullet