The eighteen miles of uninterrupted public beach are a major draw to Port Aransas. Those sandy shores are responsible for countless hours of family fun. Sometimes, though, you want your swim to be sandless and saltless, and for that, there are pools! Here are seven of the coolest pools on Mustang Island. In these pools, you can swim your laps for exercise, lounge in the shallow end, or simply dangle your legs over the side for a quick dip. The best part? They're all available for you to enjoy on your next stay in Port A!
Port A Coastal Getaway-The Tipsy Pelican
 First up on the cool countdown is the pool at The Tipsy Pelican from Port A Coastal Getaway. This house boasts a large private pool and palapa for your enjoyment after a fun day in the sun. The Tipsy Pelican is a cozy home just steps from all of the activities in Port A! 
To relax under that palapa yourself, book The Tipsy Pelican online or call (361) 500-3679.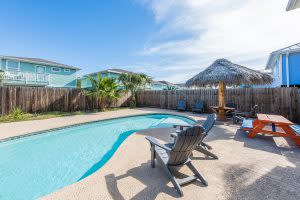 Port A Coastal Getaway-Dolphin House 
Another pool hailing from Port A Coastal Getaway lies behind the gorgeous Dolphin House. Dolphin House has a large heated private pool with handrails and an in-pool table with a bench and cup holders. This gem is located in town just over a mile from the beach, marina, restaurants, and shops. 
For more information or to book your getaway at Dolphin House, check here or call (361) 500-3679.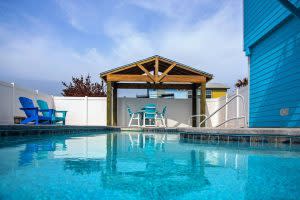 Sway-Darlin' Marlin
The Darlin' Marlin is a house rental from full service vacation hosting company Sway and features a large private pool. This pool is not only warmed and chilled for all seasons, but also features a cascading waterfall! It is located in the Boardwalk subdivision and is an easy two blocks to the beach. 
To get in on this cool–or warm, depending on the season–pool, book here or check out the Darlin' Marlin on Airbnb.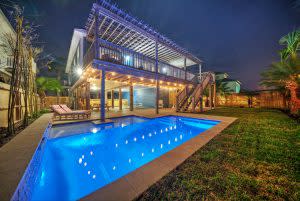 Sway-Third Sandbar 
Next up on the list is the large private pool at Third Sandbar, also part of a Sway stay experience. This pool boasts sunset views and a private pool house. Third Sandbar is conveniently located off of Ave. G and Trojan St.–just a quick golf cart ride away from all the amenities in Port A. This pool is awesome by day and by night!
Check out the pool and rest of the property here or book the Third Sandbar property on Airbnb.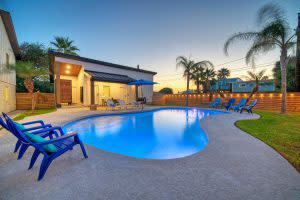 Tropic Island Resort
The pool area at Tropic Island Resort speaks for itself. These pools–yes, plural–are beautiful saltwater pools heated during the winter months for year-round fun. One pool is shallow, perfect for your younger ones to splash around, while the other is a deeper pool for the older ones and adults. During the summer, cool pool takes on a whole new meaning with  icy sweet treats like ice cream and snow cones and a schedule chock-full of poolside games. 
Whether you're looking for a hotel room, cottage, or RV resort spot, you can book your vacation at Tropic Island Resort.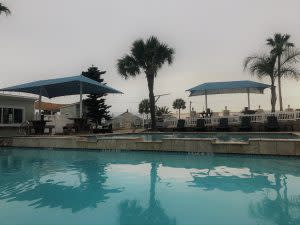 Starkey Properties-No Plana Cabana 
This incredible Starkey Properties home features two covered balconies facing the Gulf of Mexico and two open air balconies overlooking the private pool! The pool has a built-in bench around the edge and a shallow area for when you just want to get your feet wet. After your swim, enjoy a meal at the poolside picnic table before hopping on the included six person golf cart for a jaunt about town!
To dip your toes in this sparkling blue water, book No Plana Cabana.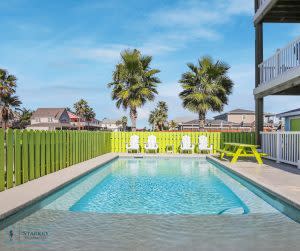 Sea Gull Condominium
Capping off the list of seven cool pools is the fantastic pool at Sea Gull Condominiums. Heated year round, this resort-style pool is surrounded by lounge chairs, picnic tables, BBQ grills, and a kids' play area. The complex is also just steps from the beach and every second of pool time will be accompanied by a relaxing breeze from the Gulf!
With options ranging from one to three bedrooms, there's guaranteed to be a space for you. Make a splash when you book at Sea Gull Condominiums.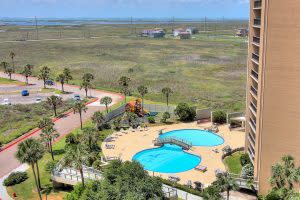 When you're dried off from the pool, check out this list of 25 Ways to Explore Port A and head out on the town!