April 14–16, 2023
Are you ready to hit the beach next weekend for the most anticipated festival of the year, Texas SandFest? You're not alone! You'll be one of many who come for the sculptures, then stay for the vibrant live music, funky vendor shops, fun festival food, and riveting conversation with artists! Whether this will be your first Texas SandFest or your 20th, here is some of the nitty-gritty, need-to-know logistical info that will help your weekend go as smoothly as possible.
Don't have tickets yet? Get them here.
One of the largest master sand sculpting contests in the United States hits the beach in Port Aransas for this annual event. Master sculptors from around the globe compete for three days, transforming tons of sand into beautiful pieces of art while spectators watch and are amazed at their talent. Vendors of all types...
Traffic Patterns:
For SandFest weekend, Sandcastle Dr. will be closed to through traffic. One-way beach traffic will enter from Avenue G, go South to SandFest grounds, then exit at Access Rd. 1-A or Access Rd. A.
Offsite Parking Options:
If you can't find a spot on the beach, don't worry. There will be plenty of offsite parking at the Port Aransas Community Park, located at 700 Clark Pkwy. An RTA bus will shuttle passengers back and forth between the park and SandFest grounds for the duration of the festival.
Accessibility:
At this year's Texas SandFest, there will not be golf carts to shuttle people within the grounds. If you or one of your companions would like to reserve a beach wheelchair, you may do so by emailing volunteer@texassandfest.org.
The process for using a beach wheelchair at SandFest:
The chairs can be found near the volunteer welcome tent at the North side entrance gate.
Chairs will be distributed by reservation or first come, first served basis.
You will need to sign paperwork and leave both a $20 deposit and a valid ID as collateral.
Time allotment for use is 2 hours and 45 minutes.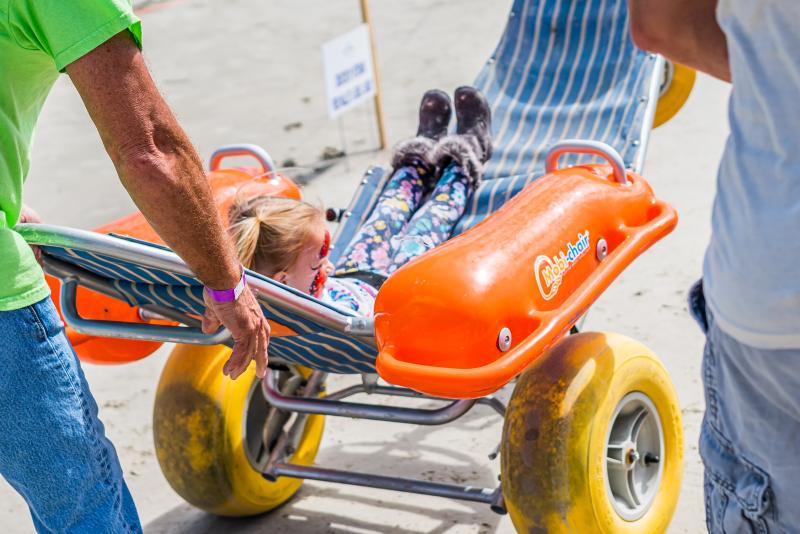 In Case of Emergency:
Texas SandFest will have an EMS unit on the grounds, and there will be a first aid tent clearly marked and close to the middle of the grounds.
If you are bringing kiddos with you, be sure to pick up a "Flynn" sticker (pictured below) when you enter. The sticker has helpful reminders (also below) on what to do in case you get separated.

Flynn reminds you to…
Write your phone number on your child's wristband.
Take a photo of your child in the clothes they are wearing that day to simplify search efforts in case of separation.
If your child is lost, report immediately to a volunteer and head to the first aid tent by the North entrance.
Have any more questions while you're at Texas SandFest?
Search for a volunteer wearing a yellow vest that says, "May I help you?" These volunteers are equipped with all the information and resources you could ask for!