Between wide stretches of beach and an abundance of distinctive wildlife, it's difficult to imagine anything more appealing than the natural beauty of Port Aransas. Preserving that beauty, however, requires that those who enjoy the environment also act as its protectors.
Helping that process along is where Keep Port Aransas Beautiful (KPAB) comes in. The goal of the volunteer-based organization is three-fold—to encourage recycling, increase litter control, and educate the public about environmental impact. Two of KPAB's developing initiatives are highlighted below, including information on how you can be part of the change!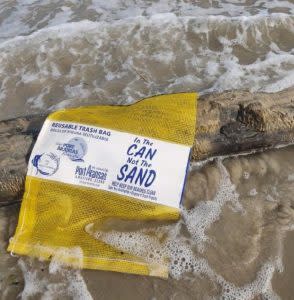 The Difference is Up2U
You may have seen these yellow mesh bags at people's setups along the beach, but did you know what they were? These bags, labeled "Up2U," are litter collection bags designed to sustainably change behaviors around beach littering. The bags are a reusable, environmentally-friendly way for beachgoers to eliminate plastic bag use, prevent future littering, and collect trash already on the beaches. 
Looking for an Up2U bag to use during your stay in Port A? Keep Port Aransas Beautiful has installed close to 20 blue litter bag containers in Port Aransas for easy access. Fifteen of these containers, pictured below, are spread across the length of the beach from the jetties to the area near Cinnamon Shore. Be sure to grab one the next time you head out!

Cigarette Butt to Surf Board
Cigarette waste is a considerable source of litter, and one of Keep Port Aransas Beautiful's objectives is to eventually eliminate all cigarette butts on the sidewalks and driveways of Port A. KPAB hopes to accomplish this objective with their new cigarette waste collection program featuring sleek Sidewalk Buttlers installed at strategic points.
KPAB started with ten receptacles, but the program has quickly grown so that now a total of 38 can be found around town. These locations include Fisherman's Wharf, Family Center IGA, Best Western Port Aransas, Ocean's Edge Hotel, Ace Hardware, Coffee Waves, Bron's Beach Carts & Backyard, Kody's, Discount Auto Parts, and more.
Through a TerraCycle program, KPAB turns over the contents of full cigarette buttlers for recycling. This waste is recycled into a variety of industrial products including park benches, picnic tables, shipping pallets, and even surf boards!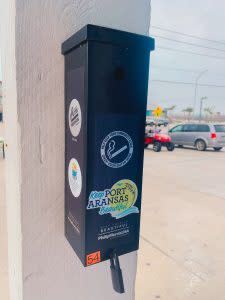 Besides the projects highlighted above, KPAB also hosts volunteer cleanups for San José Island, Adopt-a-Beach, and Adopt-a-Highway several times a year as well as recycling events like "Dunk Your Junk," a day dedicated to recycling difficult materials like old tires and electronics.
Would you like to get involved with KPAB and become part of the change? Sign up to volunteer or become a member, and always remember to throw your trash in the can, not in the sand!