Highlighting Accessibility Options on the Island
Today marks the first day of Anglers on Wheels, a twice annual fishing tournament put on by The Door in the Wall, Inc. This event is a free fishing trip for people with disabilities and their friends and family members.  
All participants in the trip receive a fishing trip aboard the Island Queen II, a fishing license provided by Texas Parks & Wildlife, and an Anglers on Wheels T-shirt. The Island Queen II is a completely wheelchair-accessible converted ferry boat. Disabled fishermen may also receive a fishing pole to use during the trip (though you may bring your own) as well as a chance at the tournament's prize money! 
Anglers on Wheels will take place again in early fall of this year, on September 16 and 17, so if you or a loved one are interested in participating, be sure to reach out to The Door in the Wall or check back with their website for when online signups will open over the summer!
You don't need to wait until then, though, to take a trip to Port A and still get the full island experience. Utilize the options below to ensure you and your family or friends have the smoothest trip possible!
Beach
If you are wheelchair-bound, the City of Port Aransas offers a Mobile Beach chair for handicapped visitors to enjoy the City beaches. The chair features wide, reinforced tires to ensure effortless gliding across the sand. Rental of the chair is easy—all you need to do is fill out the application found here and submit it to the contact information provided. The City only has one chair currently, so rental is restricted to 48 hours at a time.
Mustang Island State Park, located just down the island a bit, also has two beach wheelchairs available for park visitors. These can be utilized by checking in with park staff upon arrival.
Nature
Port Aransas is well-known for its abundant wildlife and stunning landscapes. The Port Aransas Nature Preserve consists of four sites—Leonabelle Turnbull Birding Center, Wetland Park, Joan & Scott Holt Paradise Pond, and Charlie's Pasture. All of the sites feature wheelchair-accessible boardwalks.
Leonabelle Turnbull Birding Center's iconic overlook features a ramp up to the top for peak birdwatching views. Wetland Park also has a raised, wheelchair accessible, boardwalk that leads to a gazebo overlooking tidal flat and marsh habitats, home to many wading and shorebirds.
Enjoy the Port Aransas Nature Preserve at Charlie's Pasture, which includes uplands,...
Leonabelle Turnbull Birding Center is located down the street from the Community Park...
Dedicated in 2002, the Joan and Scott Holt Paradise Pond is a 2-acre habitat that...
Transportation
In case you missed last week's blog post showcasing the "Cool Carts of Port A," golf carts are the favored mode of transportation on the island. They're compact, quick, and perfect for a jaunt around town or to take to the beach…not to mention fun! And now, they're also accessible. Sly Customs, Inc. recently unveiled a modified cart designed specifically for easy wheelchair onboarding and offboarding. Reserve it for your next trip by contacting Sly here.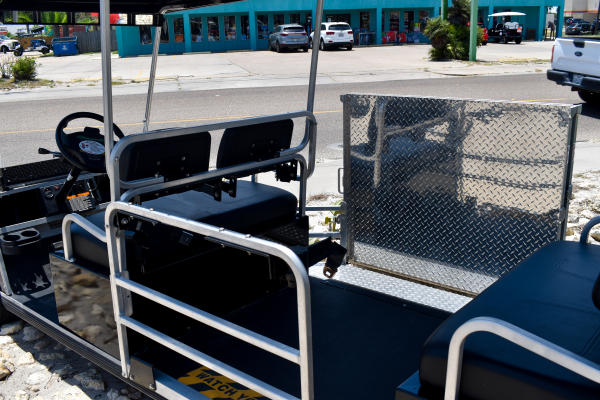 Dining & Lodging
Did you know you have the ability to filter "Places to Stay" and "Restaurants" by ADA accessibility? Simply select "ADA-friendly" in the amenities menu on the left-hand side. From there, you can select other requirements, like "Pet-friendly" or "Kids Menu." The full list of ADA-friendly restaurants can be found here, and the list of places to stay can be found here.
Enjoy your next stay in Port A!