Tourism Rally
May 9th, 2023 from 4 to 6 p.m.
Celebrate National Travel & Tourism Week with us at our 3rd annual Tourism Rally! The rally will take place at the Patton Center for Marine Science Education (855 E. Cotter Ave.) on May 9th. Join us from 4 to 6 p.m. for a celebration of our island's Hospitality Heroes, drinks, hors d'oeuvres, and island jams!
Let us know you're coming with an RSVP to info@visitportaransas.com or (361) 749-5919.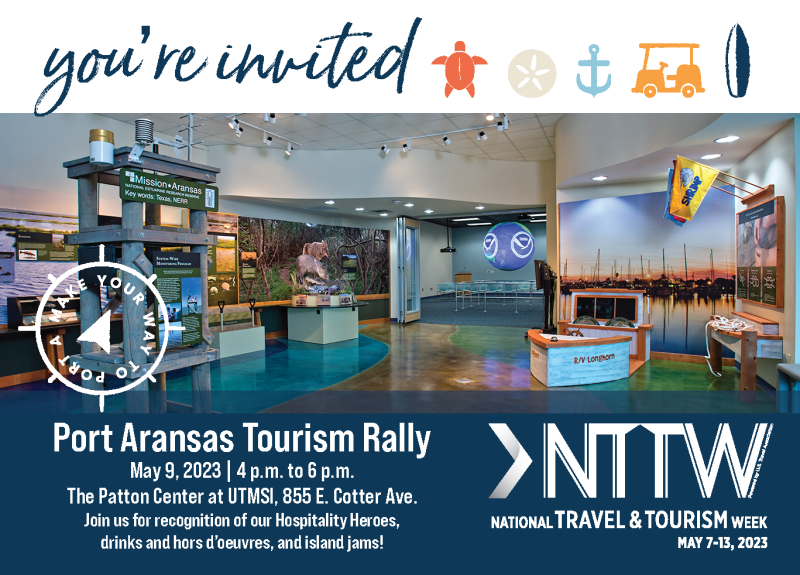 Hospitality Hero Nomination
Tourism is the island's top economic driver, and hospitality workers playing a vital role in our amazing town. National Travel & Tourism Week is a great opportunity for us to honor them with recognition at the Tourism Rally, a "Hospitality Hero" pin and certificate, and a full-page ad in the South Jetty.
Who can be nominated for Hospitality Heroes?
Hospitality workers who work in tourism-related fields such as restaurants, hotels, destinations, and entertainment can be nominated. Nominees can be paid employees, volunteers, or previous winners of a company's internal employee recognition program.
For nominees to be considered, the nomination must contain a minimum of two specific examples of how the employee has gone above and beyond to positively impact the guest experience. 
The "WOW" Moment Criteria
Nominators should use the following guidelines when submitting a nomination:
The service provided by the staff member was totally unexpected by the guest and so memorable that the visitor can't wait to tell others. It makes them say "WOW!"
The nomination should include a full retelling of the experience and the action done, as well as its impact on the guest.
Winners are chosen on the quality of the service provided, not on the number of nominations received.
In addition to the above criteria, the hospitality frontline employee must also consistently:
Possess a positive attitude
Be attentive and courteous to customers
Be reliable and professional
Have a good working relationship with others
Be able to communicate effectively with peers, management, and visitors
Goes the extra mile by demonstrating their commitment to excellent customer service
To nominate a hospitality industry worker who has gone "above and beyond" in providing great customer service, complete the following form. Nominations must be received by end of business Friday, April 28.
This form is currently unavailable