Texas SandFest
Not Your Ordinary Sandcastle
Where can you see a haunting rendition of Abraham Lincoln just yards down from a larger-than-life gorilla, which also happens to be near a Tex-ified Hindu god? Oh, and they're all made of sand? The answer is only in Port Aransas, and only during the weekend of the Port Aransas SandFest.
Texas SandFest, held annually in Port A, is the largest native-sand sculpture competition in the USA. What began as a small local competition in 1997 has grown into an internationally recognized three-day family event that draws renowned sand sculptors and tens of thousands of visitors from around the world each year to Port Aransas.
Plan Now for Texas SandFest on April 19–21, 2024
You'll want to plan a trip and stay awhile for this flagship festival. Attendees stroll through the festival enjoying mind-blowing sand sculptures, bopping their heads to live music, and getting a taste of the coast from local food vendors. Adults can stop for a drink at the beer garden before letting their kids learn at "Lesson Mountain," or to hydrate before hitting up vendors for arts and crafts, apparel, jewelry, furniture, souvenirs, and more.
The Masters' Gallery is where the competition sculptures are created. Magnificent works of art, created over three days out of literal tons of sand, can be found within this area. Sculptors work as solos or as teams of two, and most begin planning their sculpture weeks, even months, before the event to determine use of forms and what tools are needed. Other sculptors let the sand speak to them and create their art from inspiration of the moment. Regardless of method, watching over the course of the festival as these artists coax beauty from a pile of sand will take your breath away.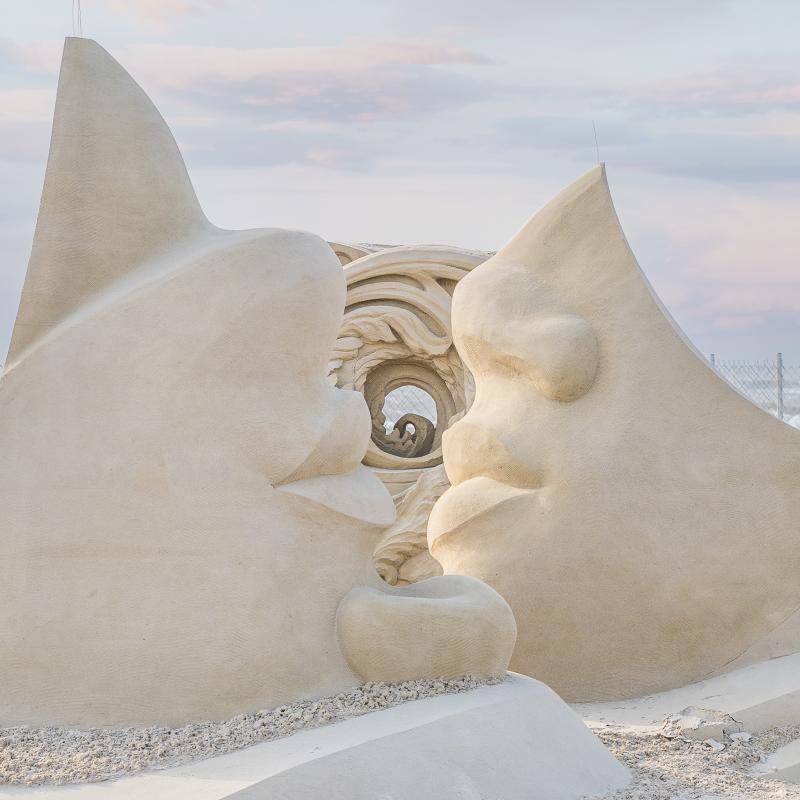 The fun doesn't end with the masters. Everyone starts somewhere, and the amateur competition is another awe-inspiring and entertaining way to experience the art of Texas SandFest. Amateurs work within age groups, as solos or teams. They have limited time during which they create masterpieces that can really surprise the crowd…and the sculptors!
Here are some things to consider when planning a trip to Port Aransas SandFest:
Since SandFest is an immensely popular event, you'll want to plan far in advance. Book your stay and a golf cart ahead of time to make your trip as easy as the breeze.
The sculptures are progressive works of art, and you won't want to miss seeing the final product, so plan to attend each day for the full experience!
Texas SandFest is the only community event held on the beach. It is a rain or shine event, and it works around the tides and all that Mother Nature has to offer.
When attending Texas SandFest, be aware of the wind, the sand, the heat, and the sun and plan accordingly. Pay attention to kids in strollers and pets on leashes…be sure they get plenty of shade and lots of water.
While you're in town, don't miss out on all the Port Aransas things to do! Try the award-winning restaurants or enjoy some live music.
To learn more about Texas Sandfest, click here.